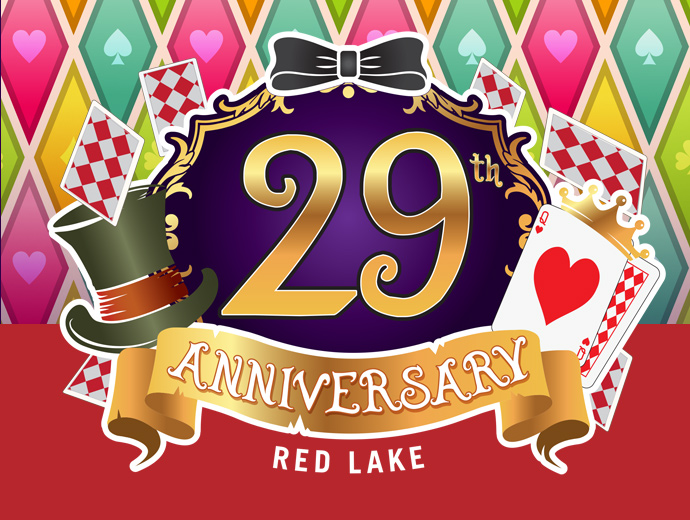 29th Anniversary – Red Lake
Welcome to Wonderland!
Celebrate 29 years with us!
Sweet deals and promotions ALL WEEK LONG!
---
T-Shirt Giveaway
December 13-16
starting at Noon
Just earn 50 base points between 10AM-11:59PM and visit the Players Club to get your Tee!
Limit one shirt per patron for the week. While supplies last. 
---
Free Treats? Sweet!
December 13-16
2PM & 7PM
Complimentary pre-wrapped sweet treats for all guests!
While supplies last. 
---
Mad Hatter Slot Tournament Party
Tuesday, December 14th
10AM-5PM
1 minute to win it (up to $50 migizi). Select your theme at the tournament bank and play to win!
One entry for every 29 base points earned. Must earn base points before 4PM on the same day.
---
Cheshire Cat Hot Seats
Wednesday, December 15th
10AM-5PM
Two $29 Migizi winners every 15 minutes.
---
Queen of Hearts Flippin' Migizi Play
Thursday, December 16th
11AM-5PM
Start with $25 Migizi and high/low risk your way to more!
1 entry for every 29 base points earned. Ties result in player's favor.
---
Anniversary Earn & Get
Tuesday-Thursday
10AM-9:59PM
Earn 100 base points between 10AM-9:59PM and get the gift!
December 14th: Spooner Coffee Mug
December 15h: Hot Chocolate Bomb
December 16th: Make Up Day
While supplies last.
---
Customer Appreciation
Thursday, December 13th
Earn just one base point starting at 2PM to get your snack pack and sweet treats!
While supplies last.