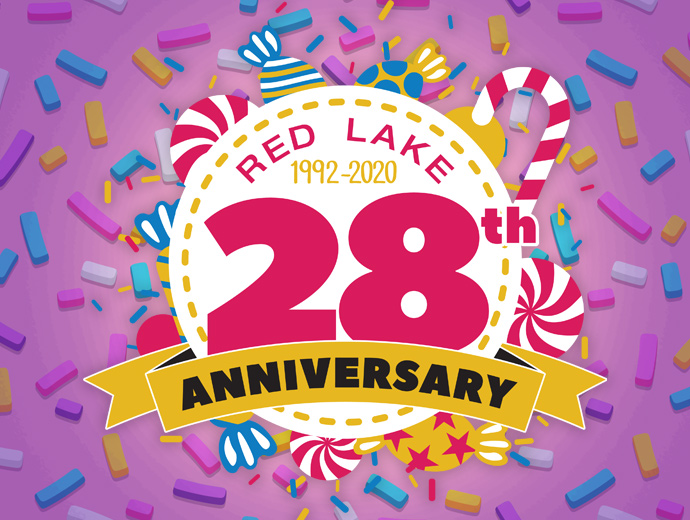 Red Lake 28th Anniversary
Red Lake is your Candy Land – Celebrate 28 years with us!
Sweet deals all week long!
---
Sweet T-Shirt Giveaway
December 14-17 • Beginning at Noon
Just earn 50 base points between 10AM-11:59PM and visit the Players Club to get your Tee!
Limit one shirt per patron for the week. While supplies last.
---
Tease Your Sweet Tooth
December 14-16 • 2PM & 7PM
Complimentary pre-wrapped sweet treats for all guests!
While supplies last.
---
Life Is Sweet!
December 14-17 • 10AM-11:59PM
Just earn 75 base points from Midnight-11:59PM to get:
Monday: M&M's and Pretzels
Tuesday: Hersey's Kisses
Wednesday: Whirly Pops
Thursday: Make-Up Day
Only available for pick up from Players Club 10AM- 11:59PM. Non-redeemed base points will not carry over into the next day. Earn all the items, and you'll receive another item of your choice, as available. Earn one gift per day, while supplies last. No rain checks.
---
M&M's & Migizi
Monday, December 14th • 6PM-10PM
Winnings that won't melt!
Hot seat winner every 30 minutes wins $50 Migizi Play & M&Ms!
Migizi Play will automatically be put on their Player's Club card, and will be valid for up to 24 hours after it has been issued. Must earn 25 base points to qualify. Guests can win up to (2) times per promotional period.
---
Dragon Kisses
Tuesday, December 15 • 10AM-2PM
Win up to $10 for every 28 base points earned on our Dragon Kisses NAMB game.
---
Whirly Pops Hot Seats
Wednesday, December 16 • 10AM-4:30PM
Ain't Life Sweet?
Hot seat winner every 30 minutes wins $28 Migizi Play!
---
Customer Appreciation Day
Thursday, December 17
Earn just one base point starting at 2PM to receive your Snack Pack which includes a pre-packaged cooler pack lunch with a sweet treat.
While supplies last.