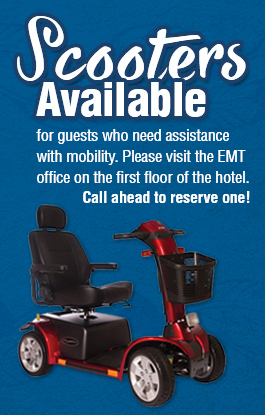 Thief River Falls Area Attractions
When you're ready to take a break from the excitement of the gaming action, Thief River Falls and the surrounding area has a lot to offer. Besides our spectacular indoor water park, the area offers something for just about everyone. Whether you like camping, fishing, golfing, hiking, touring historical sites, snowmobiling or any of a number of other activities, we're sure you'll find plenty to keep you busy.
Make it a movie night at Falls Cinema in Thief River Falls. Check fallscinema.com for showtimes and nightly specials.
15469 US-59, Thief River Falls, MN 15469
218-681-9945
---
Whether you plan on camping or passing through, Falls Stay N Play has something for everyone. They offer 75 campsites, a mini golf course, a 1,100 foot go-kart track, an inside arcade, a club house, indoor bathrooms and showers, laundry facilities, a picnic shelter, playground, and more. Open 24/7.
17107 US Hwy 59 NE, Thief River Falls, MN 56701
218-681-8425
---
Thief River Golf Club's picturesque, par 72, 18-hole course features 6,336 yards of golf right along the banks of the Thief River. Recently remodeled, Thief River Golf Club also offers a fully stocked pro golf shop and banquet facility.
13697 188th St.. NE, Thief River Falls, MN 56701
218-681-2955
---
Bowling for the whole family. Also features Glow N' Bowl (music and special lighting), pool tables and arcade games. Hours are Mon-Sat 12:00 pm to 1:00 am Sunday 12:00 pm to 12:00 am.
906 Hwy. 32 S, Thief River Falls, MN 56701
218-681-1270
---
Early spring-Oct. during daylight hours. Take the "Lost Bay Habitat Drive", a four-mile self guided auto tour route, open from May-Oct. and don't miss climbing the 100 ft. fire tower at Headquarters during office hours. Spotting scopes are mounted on the Parker Deck, Office Deck, Farmes Pool Cairn and Rodahl Hiking Trail Deck. Three hiking trails are also located within the refuge. Group tours may be arranged well in advance by contacting the refuge office.
Middle River, MN 56737
218-449-4115
---
Preserved remnant of the sand dunes that northwest winds pushed up on the eastern beaches of glacial Lake Agassiz. Operated by the Nature Conservancy, hiking trails allow a close view of the area.
Fertile, MN 56540
218-945-3129
---
The gardens can be viewed anytime. The gardens feature five acres of flower beds containing nearly every type of annual flower compatible to Northern Minnesota. Visitors may pick up a printed guide to the gardens. The gardens should be at their best from late July through frost. Free admission.  Hours are Mon.-Sat. 8:30 am to 5 pm and Sunday 12:00 pm - 5 pm.
Located on the grounds of Bergeson Nursery, three miles South and five miles East of Fertile MN
218-945-6988, or e-mail: info@bergesonnnursery.com
---
A Beltrami Island State Forest map is advised to cover the 669,000 acres of forest. Great Gray Owl, Northern Hawk Owl, Boreal Owl, Spruce Grouse, Black-backed Woodpecker, Three-toed Woodpecker, Connecticut Warbler and 16 other breeding species of Warblers.
E. on Hwy. 1, 26 mile N. on Cty. Rd. 28 which turns into Cty. Rd. 54, 15 mile E. on Hwy. 89, 14 mi. N. on State Forest Rd.,
4 mile to Dick's Parkway Forest Rd.
---
Self-guided nature trail highlighting the unique sand dune formations, oak savanna and native prairie of remnant glacial Lake Agassiz. Ten miles of hiking and crosscountry ski trails along the Sand Hill River and through the Fertile Sand Hills. Trail maps available at the Fertile Community Center and on-site.
One mile west of Fertile, 218-945-3129
---
A partnership of nearly 30 organizations, this is the largest tall grass prairie restoration project in the nation. The project is located along the Glacial Lake Agassiz beach ridge about 20 miles east of Crookston with a goal to protect remnant tracts of native prairie, as less than 1 percent of native prairie remains in Minnesota. Visitors can enjoy watching prairie chickens from blinds and viewing thousands of migrating sandhill cranes, a plethora of prairie flowers and a tranquil view of prairie vista. This refuge was just established in October 2004 and additional public use opportunities are being developed over the next few years.
For directions and more information call the Rydell refuge at 218-687-2229, Rydell@fws.gov
---
Hayes Lake is located in 3000 acres of Beltrami State Forest, 9 miles east of Wannaska. The park is open year-round. Summer activities include hiking, bird watching, horseback riding, fishing, mountain biking, and nature watching. Camping at Hayes Lake is available Memorial Day through Labor Day. Winter activities include crosscountry skiing, snowshoeing, ice fishing, and snowmobiling. Hayes Lake has a diversity of wildlife. There are 200 different bird species that call Hayes Lake home along with wolves, deer, black bears, and bobcats.
Roseau, MN 56751, 218-425-7504
---
Open year-round. See Larson's 1880s grist mill, which is powered by a Case 359 steam engine. Historic 1940s WPA building site, on the National Historic Registry. Pioneer cabin, hiking, camping and swimming.
Argyle, MN 56713, 218-437-8174
---
Yellow Rail, Le Conte's Sparrow, Sandhill Crane, Greater Prairie Chicken, Sharp-tailed Grouse.
S. on Hwy. 32, 7 mi. W. on Cty. Rd. 3, 12 mi. to the Pembina Wildlife Management Area sign, N. on Pembina Wildlife Rd., 2 mi. to the S.E. entrance of Goose Lake Wildlife Area
---
Almost 9,000 acres of peat bog covered with black spruce tamarack and cedar. Look for the Great Gray Owl, Northern Hawk Owl, Boreal Owl, Northern Saw Whet Owl, Great Horned Owl, Spruce Grouse and Gray Wolf.
Roseau, MN 56751, 218-463-1130
---
Over seven miles of trails provide visitors access to experience this bountiful natural treasure. Five miles have been paved to improve accessibility for all. Excellent bird-watching opportunities may be found along the trails and around the Visitor's Center, which has several bird feeders and plantings to specifically attract birds. Deer hunting opportunities are available annually for youth and people with disabilities. The refuge trail system is open daily from sunrise to sunset and the visitors center is open during regular business hours and on Sundays from 1-5 p.m. with extended hours through the summer. Activities include hiking, biking, bird watching, cross-country skiing and snowshoeing. Interpretive programs are held on Sunday afternoons throughout the summer.
For directions and more information call 218-687-2229, rydell@fws.gov
---
Primitive camping in designated areas. 55,000 acres of wildlife habitat, including marshes, forests, brushlands, and prairie. Wildlife, present seasonally, include waterfowl and other marsh birds, deer, moose, bear, grouse, rabbits, furbearers, songbirds, sandhill cranes, and raptors. Activities include hunting for waterfowl, big and small game, and nature viewing. A scenic overview of the lake with interpretive signing and picnic shelter are available. Contact the headquarters for maps and bird lists.
42280 240th Ave. N.E., Middle River, MN 56737, 218-222-3747
---
Trails open year round during daylight hours. 440 acres of wildlife habitat and fields on the Ancient Lake Agassiz beach ridge.
24 miles E. of Thief River Falls on Hwy. 1, 218-745-5663
---
The center is full of early days memorabilia from northwestern Minnesota. Established in 1986, it is open for guided tours Fri.-Sun 1:30-4:30 p.m. Open upon request anytime.
Along Hwy. 2 in Fosston, MN, 218-435-6136 • 218-435-1313
---
Open year round by appointment. During the third weekend in August, there are various craft demonstrations, old-time wheat threshing demonstrations, concessions, antique tractor pull, a threshers breakfast, country dinner, general store and more.
Corner of 220 N. and 20th St., N.E. of Grand Forks next to Technical College, 701-740-2066
---
This monument is a bronze life-sized figure of a Chippewa Indian holding a peace pipe. The monument was erected in 1932 by the U.S. Government to commemorate the signing of a peace treaty with the Chippewa Indians in 1863.
Red Lake Falls, MN 56750
---
The village has 19 buildings, including a museum, Victorian house, 2 railroad depots, schoolhouse, church, blacksmith shop, machinery and automobile building, and 7 log houses. The Village is open Memorial Day through Labor Day, every day from 1 p.m. until 5 p.m. Admission is $5 per person with children 12 and under accompanied by an adult admitted free.
Located at 825 Oakland Park Road, 218-681-5767
---
Restored Pioneer Village, wildflower gardens and berries.
Located 9 mi. W. on Hwy. 11 in Greenbush, MN
---
Our air-conditioned museum is filled with hundreds of items left by past generations. A tour of an 1890 school house is also available. We are also home of the world's largest ox cart.
Crookston, MN, 218-281-1038
---
Local and regional art exhibits are changed each month in this intimate gallery located within the public library.
Fosston, MN
---
The Historic Soo Line Railroad Depot, located on U.S. Highway 59 downtown, is listed on the National Register of Historic Places. From completion of construction in 1914 until 1967, when passenger train service was terminated, the Depot was a hub of community activity almost 24 hours a day. At the height of its use, the Depot saw 13 passenger trains arrive and depart each day. Following a successful "Save the Depot" fundraising campaign in 1994-95, the City decided to renovate and remodel the building for use as City Hall. The completed project retained most of the building's significant interior features, including the terrazzo floor and wood trim and doors in the main passenger terminal area. Steam Locomotive No. 1024, a Soo Class L-4, 2-8-2 MIKADO, is on permanent display outside the Depot.
405 3rd St. E., Thief River Falls, 218-681-2500
---
May-Sept., Thurs.-Sat. 9 a.m.-5 p.m., Sun. 1-4 p.m. Weekend tours by request. Featuring eight store fronts, the museum depicts an 1880s street. On display–antique farm machinery and the UFO Sheriff's car of Marshall County.
808 E. Johnson Ave., Warren, MN, 218-745-4803
---
Open daily. A miniature chapel complete with colored windows and traditional church pews.
Next to the E. Polk Heritage Center in Fosston, MN