Open 24 hours
Banquets closed until further notice.
Open 24 hours
The pool will be closed until further notice.
Monday-Wednesday: 8:00AM - 2:00AM
Thursday - Sunday: 8:00AM - 4:00AM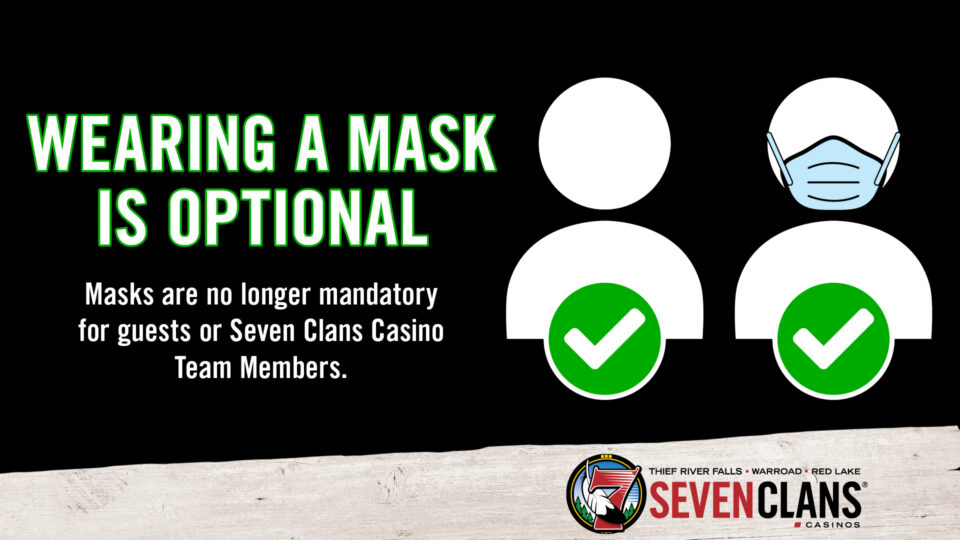 Thank you for your understanding during these uncertain times. Stay safe and healthy, as we have looked forward to seeing each other. WELCOME BACK!
What to Expect During Your Next Visit
As of 5-27-22 Masks are optional for our casino guests and team members.
In accordance with CDC Guidelines, Seven Clans Casinos encourage everyone to get vaccinated when possible.
We've missed you!! Seven Clans Casinos Guests can expect to see some changes throughout our properties to protect everyone. Behind the scenes our staff has pulled together to get our properties back to operating in a safe and efficient environment by cleaning and sanitizing all areas of our properties and our team continues to deep clean during our closure periods for the safety of all.
Thief River Falls | Operating Hours: 
open 24 Hours
Warroad | Operating Hours: 
open 24 Hours
Red Lake | Operating Hours: 
Monday – Wednesday | 8:00am – 2:00am
Thursday - Sunday | 8:00am – 4:00 am
Efforts include but are not limited to: as of 8-17-22

Masks are optional for Guests and are still required for Team Members while on the property. Patrons should be prepared to provide their own mask (cloth or disposable), as a limited supply of disposable masks will be available upon request.

A valid photo ID is required and will be verified upon request by Seven Clans Casino Security staff while visiting the gaming floor. Valid identification includes: State, Tribal and other Government issued identification.
We are 100% smoke free inside our properties.
The property currently has hand-sanitizing stations for employee and guest use. They are located at each entry, food venue and throughout the properties.
We have taken a phased approach to reopening based on the guidance we continue to receive from our tribal council, public health officials, and have and will add back the outlets over time. Our Management is continuously monitoring the situation and will continue to modify our properties to ensure that we are operating in a way that keeps you, our guests, our team members and tribal members safe.
Please assist our efforts to maintain social distance, wear a mask when you can for the safety of others, we encourage all of our friends and family of Seven Clans to get vaccinated and most of all enjoy your time here on our property, we are happy to have you back and make new memories, continue to stay safe as we come together!
Our COVID-19 Committee will continue to meet bi-weekly and/or as required to assess current conditions and modify plans as needed.
Note: All associates will be required to assist Public Area Cleaning with sanitizing the properties.