Meetings, Banquets & Weddings
Our casino features a large, multi-functional Meeting & Events Center. Besides offering a wonderful location for all sorts of meetings and gatherings, it is also home to many special events.
Our largest room is 1649 square feet and divides evenly into 3 separate rooms to accommodate all meeting styles.
Divided sections will seat approximately 32 guests on round tables or 10-16 guests on our conference tables.
Three Sections (up to 96 ppl on round tables)
Two Sections (up to 64 ppl on round tables)
One Section (up to 32 ppl on round tables)
Please contact Marguerita for pricing.
Steve Pint
Food & Beverage Manager
Seven Clans Casino
34966 605th Ave
Warroad, MN 56763
1-218-386-3381 ext. 36308
steve.pint@7clans.com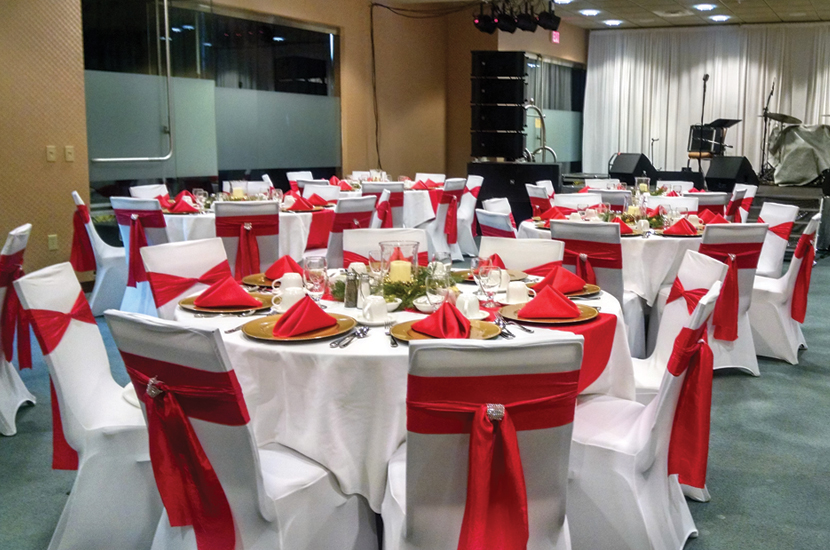 Guests with 15+ rooms blocked in our Hotel are entitled to a 15% discount on any of our Meeting Rooms. Coupons and/or any other promotions do not apply.
All meetings and events will include coffee, hot tea, ice water, glassware and linens upon request.
Audio/Visual equipment is available upon request for a fee.
Any drinks such as soda, juice, etc. or any assorted pastries or snacks will need to be ordered along with the contract. If you would like us to serve you from our Banquet Menu for Breakfast, Lunch, Snacks or Dinner please contact our Banquet Coordinator no later than 2 weeks prior to the date of your accommodations. Any special requests for Audio/Visual equipment must also be ordered in advance.
The anticipated balance is due 7 days prior to your event unless credit has been established.